Fixed
We specialize in crown and bridge and cosmetic restorations, and are equally adept hand-layering porcelain as using CAD/CAM production to fabricate an all-ceramic solution. We're comfortable helping our doctors case plan as well as providing consultation to ensure success on every case, and want to be an integral part of your treatment planning process.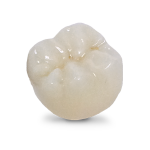 Full-Contour Zirconia
Designed and fabricated by expert digital dental technicians on our CAD/CAM workflow for the utmost in precision and quick seating, our full-contour zirconia restorations are an ideal option for posterior crowns and bridges. With unsurpassed flexural strengths above 1,300 MPa, zirconia crowns are the most durable restorative option available, while still being gentler on opposing enamel than feldspathic porcelain.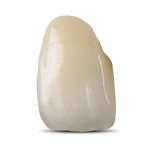 Porcelain Fused to Zirconia
Eliminate grey areas at the margin, subgingival discoloration and oxidation associated with alloy based copings with porcelain fused to zirconia crowns. With the esthetics of hand-stacked porcelain layered on a CAD/CAM fabricated zirconia substructure for a digitally precise fit, PFZ crowns from Diamond Dental Laboratory are the perfect marriage of traditional esthetics and modern accuracy.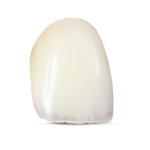 IPS Empress®
There's simply no more esthetic restorative option than IPS Empress®. Leucite glass-ceramic crowns offer translucency that's nearly indistinguishable from natural dentition, making it an ideal choice for single-unit restorations in the cosmetic zone. Empress' high translucency provides a natural chameleon effect, helping restorations mimic surrounding enamel's shades, and its 160 MPa flexural strength is comparable to natural dentition.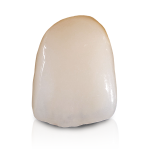 IPS e.max®
The leading high-translucency restoration for more than a decade, IPS e.max® has been the doctors' choice for a balance of esthetics and strength. Lithium disilicate ceramics offer average flexural strengths of 400 MPa while delivering shading and opacity that's nearly indistinguishable from natural dentition. Ideal for single unit and bridges of up to three units, IPS e.max is strong enough for nearly any anterior indication.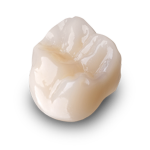 3M™ Lava™
The first name in layered porcelain on zirconia is still the leading name for porcelain fused to zirconia restorations. We digitally design and fabricate a substructure of Lava® zirconia, whose strength allows for conservative preparations to preserve natural dentition. Finished with porcelain layered by experienced ceramists, Lava crowns are an esthetically superior alternative to PFM restorations.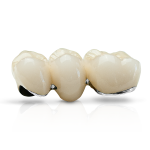 Porcelain Fused to Metal
The most time-tested ceramic restoration, porcelain fused to metal crowns offer the unbeatable strength of an alloy coping and esthetics of feldspathic porcelain. Our wide range of alloy options – nonprecious, semi-precious, white high noble and yellow high noble – provides the flexibility to serve patients regardless of their budgets or insurance reimbursement policies.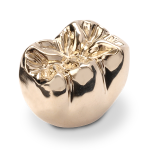 Full Cast Crown
When structural strength or biocompatibility are critical, full cast crowns remain the dentists' choice. Cast by veteran technicians with extensive experience working with alloy, full-cast crowns are more resistant to plaque and bacteria than other materials. Every full-cast case we ship is accompanied by a an IdentAlloy sticker identifying its composition, manufacturer, brand name and standard symbol for proper insurance billing.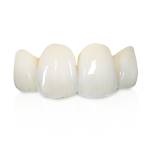 Crystal Temporaries
Fabricated using the same design files we use when crafting a permanent restoration, Crystal Temporaries offer patients the opportunity to try in and ensure occlusion matches and seating is acceptable. Milled from durable PMMA, temporaries offer patients the comfort and confidence to smile as surgeries heal.