Removables
Removables remain an ideal solution for many patients, and Diamond Dental Laboratory is committed to providing high-quality prosthetics to everyone. Balancing the need for realistic esthetics that patients demand with a fit that makes them fully functional and comfortable, our removables are fabricated by technicians who apply years of experience to every case.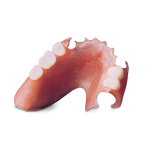 Valplast® Partials
Flexible, durable and comfortable, Valplast® partials provide everything patients need in a removable. Thermoplastic bases provide flexion, allowing the appliance to adapt to the mouth's natural movements while remaining comfortable even when worn all day. Strong enough to serve as a clasp and available in five shades that match most gingival tones, Valplast is biocompatible and resists stains and odors.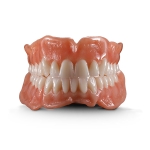 Acrylic Full and Partial Denture
Fully characterized to meet each patient's age, tissue contour, sex and tooth shade, each denture is fabricated for optimal esthetics and a seamless integration with your patient's appearance and personality. Our heat-cured bases provide a consistent fit and improved durability over cold-cure acrylics, and technicians select premium teeth for personalized esthetics, ensuring every denture and partial will be worn with confidence.
Combination Chrome/Valplast® Partial
Combining the durability and stability of a RPD with the esthetics of a Valplast® partial, our combination partials offer a unique treatment option. Chrome cobalt frameworks offer a highly biocompatible and rugged base, while the acrylic layer blends cleanly with gingival tissue.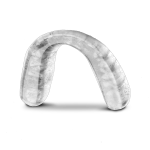 Nightguard
Protect natural enamel and restorations with comfortable custom nightguards from Diamond Dental Lab. Individually fabricated with a low profile and an ideal fit, custom nightguards offer a comfortable fit. Available in hard, soft and hard/soft options to tailor protection and durability to meet any patient's needs.